About Richard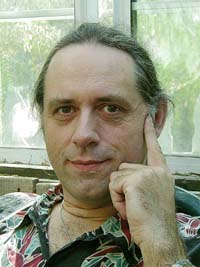 Born in England in the early 1950s, Richard G. Elen has been writing professionally for over a quarter of a century, and has launched, edited and contributed to leading entertainment industry journals on both sides of the Atlantic. He has also been a recording engineer and producer, a partner in an advertising agency and a marketing executive, and was one of the first to begin to develop the Internet's World Wide Web.
For the long version, read on...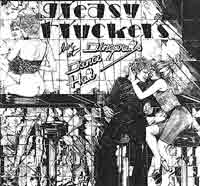 Album cover of Greasy Truckers Live at Dingwalls.
In the early Seventies, Richard became an Assistant Recording Engineer at Island Records' Basing Street Studios, one of London's major recording facilities. He was promoted to Engineer status in 1974. The same year he went freelance, and completed his first project as a record producer, Greasy Truckers Live at Dingwalls, which he also engineered.
Following his initial success in the recording studio, Elen went on the road, performing live sound mixing for the band Gryphon during UK and US tours supporting the band Yes. His next major project was a series of recordings and tours with Gryphon, culminating in an album release (Raindance) in the fall of 1975.
Following a stay in Los Angeles, Richard took a position in 1976 as Studio Manager/Chief Engineer with EMI Music Publishing, managing KPM Studios, their Central London multitrack recording facility. This studio was also where he began his long relationship with the KPM Production Music Library, working with a number of their top composers including the internationally-famous composer Keith Mansfield, producing music for use in TV and radio commercials, documentaries and movies. Music recorded and co-produced by Richard Elen has appeared in such movies as Back To The Future II and The Fourth Protocol, and in addition has found a place in numerous TV series including world-famous documentaries such as wildlife films by Survival Anglia and other leading film-makers. In addition he has recorded and produced or co-produced over five dozen albums - both vinyl and Compact Disc - for KPM Music, including a number of his own compositions.
In 1978, Richard started a magazine for professional musicians and recording engineers. This title, Sound International, was launched in April 1978. Richard had already gained a good deal of experience in writing professionally, including an involvement with the technology magazine Undercurrents in the mid-Seventies and published articles in hi-fi and pro-audio journals such as Hi-Fi News and Electronics Today International. In September 1980, Richard became Editor of Studio Sound, at the time the world's leading professional recording journal. He also launched a new magazine, Broadcast Sound, aimed at the professional broadcasting industry.
In 1984 Richard founded Creative Technology Associates (CTA). One of Richard's first projects under the Creative Technology name was as a consultant to Neve Electronics, then one of Britain's leading recording console manufacturers. He also worked with Neve's PR agency to launch the company's ground-breaking line of all-digital recording consoles. Richard acted as a Public Relations Consultant to a number of companies, including Apple Computer (UK) Ltd (for whom he produced a monthly technical support newsletter); EMI's world-famous Abbey Road Studios; and Soundcraft Electronics (part of the US-owned Harman International group of professional audio companies). He also began to write copy and design advertisements for several top companies in the professional audio field.
In the mid-Eighties he worked with the Association of Professional Composers, a leading UK music industry body of which he is a member, to edit and produce the first edition of a seminal work on music publishing and copyright, The Composers' Guide to Music Publishing. This was highly successful and Elen again edited, part-wrote and worked on the production of the completely revised and expanded Second Edition, published in 1994.
Having developed a significant name in the professional audio and recording industries, Richard has been invited to lecture and write on pro-audio topics over the years by a number of organizations. In 1984 he was invited by MusicWeek magazine (the UK equivalent of Billboard) to lecture to record company executives on the benefits and pitfalls of digital audio technology and Compact Disc. Later that year he was invited by the US Society of Professional Audio Services (SPARS), the recording industry's trade organization in the USA, to lecture at the University of Miami on the subject of digital audio. In particular, he presented a paper proposing a "Digital Audio Recording Code" which would be printed on all Compact Discs and would indicate to consumers how digital technology was used in the making of any particular CD. He was joined in this proposal by Chris Stone, then head of SPARS and owner of the major recording studio in California, Record Plant, and between them they finalized what became known as the "SPARS Code". The code was accepted by the record companies and still appears on many CDs today.
Richard Elen was invited to be one of a small number of top industry personalities to present awards at the inauguration of the TEC Awards Ceremonies in New York in 1985. The annual TEC Awards, sponsored by Mix Magazine, have developed over the past decade to become the leading awards to manufacturers and personalities in the recording and pro-audio industries. Richard Elen has sat on the Awards Panel for all the TEC Awards to date.
Already a member of the AES, Richard became an early member of the APRS British Record Producers' Guild, later re-named "Re-Pro". Elen has contributed chapters to the second, third and fourth (current) editions of the standard textbook on recording techniques, Sound Recording Practice, published by Oxford University Press and contributed to by several of the top names in the UK recording industry for many years. In the late 1980's Richard was invited to chair a seminar on computers and music at a major London computing conference. He also presented a paper at the conference.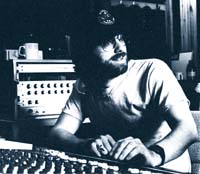 Richard in the studio, some time in the 1980s, with Ambisonic equipment in the background.
Richard had been interested for many years (since 1971 in fact) in a unique British surround-sound recording system called Ambisonics, after meeting one of the system's originators, Michael Gerzon, at an IEEE meeting. He had been involved in the development of the system, under the auspices of a UK Government body called the National Research & Development Corporation for several years, beginning during his time at EMI Music, and had helped to design a series of recording studio units to enable the system to be used in multitrack recording.
Many of Richard's own recordings use Ambisonic technology, and he has provided Ambisonic expertise and equipment for the production of a number of internationally-successful albums, including Stereotomy by the Alan Parsons Project and Break Every Rule by Tina Turner. As a result of his successful involvement in this project, he was invited to lecture and hold workshops on the subject of Ambisonics to students at the University of Surrey's Tonmeister course. This is a four-year degree course for students who wish to enter the recording industry. Elen was also retained as a lecturer from 1984 to 1987 on the International Engineers' Training Course, also at the University of Surrey, held by the Association of Professional Recording Services (APRS), the UK recording industry's trade organization and equivalent of SPARS. His lectures included theory and practice of surround-sound, and aspects of digital recording and electronic musical instruments. Elen lectured over a period of three years at the Southampton Institute to first-year Mass Communications degree students on the history of the recording and broadcast industry, modern recording techniques, and electronic musical instruments.
From early on, Richard Elen has been an internet pioneer. He had been involved in on-line communications since the 1970s, and in the early 1980s had been a consultant to International Management Communications Inc. The company was the first to offer electronic mail and other on-line services to the international music industry, and included many top artists, management companies, industry accountants and lawyers as clients.
As part of his work with IMC, Elen pioneered on-line electronic publishing, created an on-line entertainment news service, and wrote bulletin-board software. In 1987 he attended the Cannes Film Festival to produce a special daily edition of the Hollywood Reporter. The text was downloaded via electronic mail from Hollywood and placed in an early Desk-Top Publishing (DTP) program. The pages were output every morning and printed, being distributed to Festival attendees at breakfast.
While IMC handled the record companies, Elen saw a market for on-line communications for musicians, and with this in mind set up Data Channel Ltd, to run a service called The Music Network. This service was the first of its kind outside the USA, and operated successfully until he sold it in 1994 on moving to North America.
In 1991, Richard Elen was called upon by Media Natura, a UK-based charity offering services to the environmental movement, to extend once again the boundaries of electronic publishing. Elen was put in charge of developing and managing a project to produce and circulate a daily magazine, called Eco, at the meetings of the United Nations Intergovernmental Negotiating Committee for a Framework Treaty on Climate Change (INC/FCCC). The magazine had been produced with traditional methods since 1972, but it was now time to bring it up to date. This was successfully carried out and it became one of the first projects of its kind, integrating a sophisticated global network of on-line distribution services with automated fax services and printed editions.
In addition to printed circulation at the UN INC meetings in Geneva and New York, Eco is today distributed internationally via the Internet, and text and Adobe Acrobat PDF files are sent to locations all over the world where groups and individuals can download the file, print out and circulate their own issues. Richard took Eco on to the Web experimentally in 1993, and from early 1994, it has been published simultaneously on paper and on the Web..
In 1987, Richard Elen moved to historic Glastonbury, Somerset, in South-West England. While in Somerset, Richard was joined by long-time friend and colleague, Ron Neilson, who had previously co-owned California's largest advertising agency specializing in professional audio clients. Together they founded an advertising agency, White Horse Group, which developed rapidly into a successful organization with several major clients including Soundcraft Electronics and PRECO Broadcast Systems. The group produced a large number of highly-praised advertisements and brochures, and rapidly became Britain's top pro-audio advertising agency. Neilson returned to the USA in 1992, and settled near Nashville, TN. In late 1993 he set up a new agency, again specializing in professional audio and high-technology clients, with Robert Clyne. The agency began as a partnership and incorporated in June 1994.
In March 1994 Richard Elen became a technical and creative consultant to Neilson/Clyne, later becoming technical director and creative associate. In this capacity, Elen was involved with several projects for clients including Kurzweil Music Systems of Waltham, MA; Lexicon, Inc. of Waltham; Studer of Switzerland; Masterfonics Studios of Nashville; Trident Audio Developments, Turbosound and Quested Monitors of England. He also masterminded the setting up of a New Media division of Neilson/Clyne, called MusicPro, to provide Web and interactive multimedia services to Neilson/Clyne clients, where he was responsible for developing sites for Kurzweil and CD-ROM-based audio magazine Control. Richard worked with Neilson/Clyne full-time until the end of 1995, and has worked with them in an independent capacity on several projects since then.
In early 1996, Richard moved to California to become VP of Marketing for leading digital audio manufacturer Apogee Electronics. From that time until the end of 2002 he carried out the various tasks associated with the position, including organizing trade show representation, planning marketing strategy and supervising product launches, and acting, essentially, as a one-man in-house marketing communications agency, producing every aspect of company collateral - brochures, datasheets, manuals etc) and advertising artwork, and running the web site. In early 2003 he returned to the UK to handle Creative Services at Meridian Audio Ltd, carrying out a similar role.
Richard writes regularly for the leading professional and consumer audio magazines, has appeared on industry panels and has been a regular guest on radio shows concerning technology and the audio arts. He designed the original Web site (now superseded) for the leading industry publication, Mix Magazine. He also has a Web site for his own surround-sound, audio and broadcasting history articles and information, Ambisonic.net.
Richard Elen has continued his work with the environmental movement, and he has been responsible over the years for the design and maintenance of several environmental Web sites including the United Nations Environment Program (UNEP) Global 500, the Cheetah Conservation Fund and CCF UK, and the Wildlife Awareness Foundation. Richard still designs web sites for friends and family and as a charity volunteer, but for most commercial projects he prefers to subcontract and project-manage.
In 2004, Richard became the Editor in Chief of the leading UK-based web site network covering the history of broadcasting, Transdiffusion.org and directed the creative partners, Bowden Associates, who moved the multi-thousand-page enterpise from manual updates to a comprehensive content management system. He relinquished this role in 2009 but remains a regular contributor.
In 2001, Richard wrote and co-presented (with Bob Clearmountain and Greg Laney) a paper on optimizing the quality of Internet audio at the Audio Engineering Society's 18th International Conference in San Francisco. He and Bob also presented the paper to students at the University of Southern California in April 2001. Richard also presented a paper at the Surround 2001 conference in Beverly Hills, in a session with Dr Thomas Chen.
Richard Elen was a member of the committee organising the Audio Engineering Society UK Cambridge Conference 2007, entitled Illusions in Sound, where, in addition, he presented a paper on Ambisonic Surround-Sound. He was also on the Committee for the 2008 event, Music Everywhere, and presented a paper, this time on the technology of music distribution and production in the on-line 'metaverse' Second Life. In January 2009 he was appointed a member of the Committee of the Audio Engineering Society, UK Section.
Richard Elen has been active in Second Life for over two years and is particularly interested in the potential for virtual (green) conferencing and eLearning. He has a teaching qualification and intends to develop the latter area of his work in-world. He is a regular presenter on an internet radio station based in Second Life and also co-presents a weekly in-world TV show on design in virtual worlds, now presented in HD.
He is also a contributor to the Green Options network of environmental news sites.