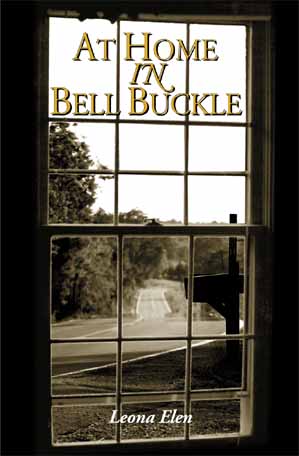 At Home in Bell Buckle by Leona Elen. Published by the Brideswell Press, 1995.
ISBN 0-9649553-0-X. Soft cover, 82pp. List price: $9.95 US, $12.95 CDN, £6.95 UK.
LEONA GRAHAM-ELEN offers a spirited response to her life in rural Tennessee (1994-5), her long sojourn in the United Kingdom and memories of her Canadian youth.
Her journeying through the fabled intricacies of word-lore takes the reader relentlessly into that part of the Self that sees the Whole.
The Work of Poetry is accomplished - to bind the listener to the inner meaning of language.
"Leona serves the reader with poetry that - like a drink from 'Brigit's Well' - refreshes, inspires, and compels meditation."
- MARILOU AWIAKTA, Author of Selu: Seeking the Corn-Mother's Wisdom and Abiding Appalachia
"Leona has painted, in words, Bell Buckle's people and landscapes with a mystical brush, dipped in her soul. This is a book that will move you and enchant for years to come."
- MAGGI BRITTON VAUGHN, Poet Laureate of Tennessee
"A bright new talent has arrived in Tennessee."
- BOB SCRUGGS, Bell Buckle Echo
LEONA GRAHAM-ELEN has been writing poetry since she was a girl growing up in the Nova Scotia of the 1940s. Following a Canadian University education, she traveled the world studying the traditions and literature of indigenous peoples for her PhD thesis. She taught English Language & Literature at the Universities of Victoria (BC), British Columbia (Vancouver, BC), and Western Ontario (London, Ont).
In the Seventies, Leona was drawn to the Findhorn Foundation, an educational spiritual community in the north of Scotland, where she worked with the founders, lectured, gave workshops, organized international conferences, and lived for almost a decade.
In the late Eighties she moved to Glastonbury - site of the first Christian settlement in England and focus of the Arthurian legends - where, with colleagues, she founded the educational Isle of Avalon Foundation and the Library of Avalon, and collaborated in stage and video productions.
Leona lived in Bell Buckle, Tennessee, in 1994 and 1995 with her husband Richard, where they founded The Brideswell Press. Today, Leona and Richard live together in Somersham, near Cambridge in England.
Leona is currently working on Passages About Gwenhwyfar, a book on the Arthurian legends from Queen Guinevere's point of view. She has published a second book of poetry titled Moon Over Topanga.
Extracts from At Home In Bell Buckle